About the Author: Kelly Shinozawa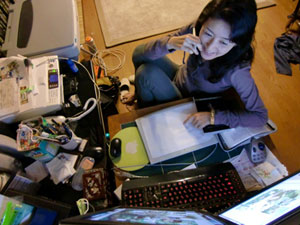 * Born in Toyota City, Aichi Prefecture, Japan
* Received the "Ribon" Manga Grand Award in 1990 and started a manga author life since then.
* Graduated from Nagoya Art College with Visual Design Concentration.
* Studied graphic design at NY Parsons the New School for Design's certificate program in New York, USA, in 2002.
* Baptized in June 2004, at Japanese-American United Church of Manhattan, New York, USA.
( I came to know the love of God through my Christian roomate.)
* Works in Japan
- "The Forest of Philip Hoggins" (published by Shueusha)
- "A Doll's House" (published by Shueisha)
- "Silver Hometown" (published by Shueisha)
- Toyota-City Men & Women Joint Participation Edification Manga
- "What Is Gender?" vol. 1-3
- "Be Yourself"
- "The Messiah"
- "Manga Mission"
- "Manga Manger"
- "The Search"
* Works in Overseas
- "Manga Messiah", "Manga Metamorphosis" (published through NEXT,
translated into 22 languages)
- Receieved Albums Primes 2010 Manga Grand Award in France in 2010.
* Future Plan
- There are many evangelistic songs and movies but very few Christian manga. I believe God has given me a mission to communicate His love with the children of the world through manga works. There is joy in drawing and it's fun to make manga, and I'm looking forward to introduce this art medium.
SALT&LIGHT Magazine (Korea)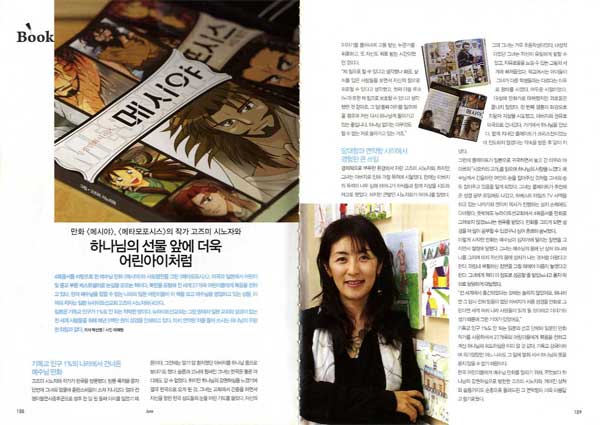 | | |
| --- | --- |
| AERA Magazine | ANIMELAND Magazine (France) |